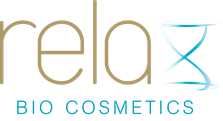 Prodotti naturali a base di ingredienti vegani formulati per minimizzare il rischio di allergie.
Luxurious natural and vegan cosmetics without any armful chemicals.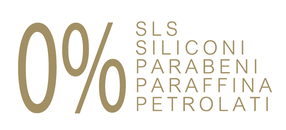 Volevamo prodotti davvero naturali, totalmente sostenibili, vegani e con ingredienti tracciabili, privi di profumazioni sintetiche e con formulazioni tecnologicamente avanzate. Non li abbiamo trovati. Li abbiamo creati.
A new generation of pure, vegan, sustainable skin care.
Caring for our skin daily is one of the easiest ways to ensure long-term health, confidence, and youthfulness. Every day we have the choice to celebrate ourselves and the planet by using products designed with well-being and wholeness in mind. Relax Bio cosmetics is dedicated to redefining beauty industry standards with products which are not only great for our skin, but also good and sustainable for our Mother Earth.
---


Relax Bio Cosmetics rappresenta una nuova visione nella cosmesi vegana di alto livello. Combinando ingredienti purissimi, antiche tradizioni e processi sostenibili, creiamo prodotti e trattamenti in grado di offrire eccezionali benefici alla pelle, e non solo. I migliori ingredienti naturali, lavorazione artigianale e tecnologia all'avanguardia ci permettono di racchiudere in ognuno dei flaconi dei piccoli gioielli in grado di migliorare visibilmente e in breve tempo il benessere e l'aspetto della pelle.
Relax Bio Cosmetics represents a whole new era in the luxury vegan skin care experience. It combines pure ingredients, ancient traditions and advanced technologies to create products and treatments with exceptional inner and outer benefits. From earth to skin, we work to maintain the unique purity of each ingredient, and the greater natural healing energy contained within. The finest natural plant and mineral ingredients, sustainable practices and packaging, minimum waste production: embracing ethical integrity we try and harness the earth's highest natural vibrations, which hold the power to reach beyond the physical to nourish spiritual well-being too.

Choose what's best for your skin   Scegli la linea giusta per te
---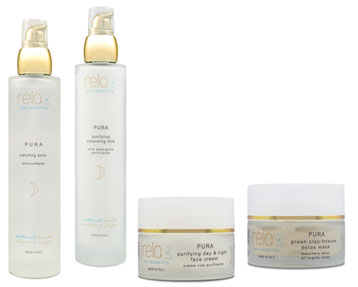 Per la pelle che ha bisogno di essere delicatamente schiarita, purificata, decongestionata.
Dedicated to the skin needing to be gently purified, clarified and hydratated lightly. For the Princess.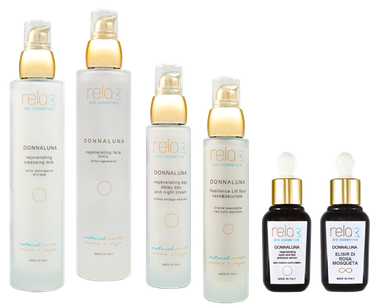 Pelle matura, di Donna vera.
Antiage for the Queen.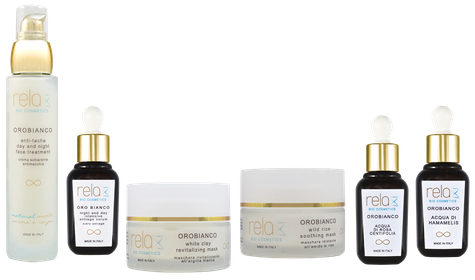 Linea unisex tecnologicamente all'avanguardia, naturale, con ingredienti purissimi e peptidi bio-regolatori, il futuro della scienza della salute.

A technologically advanced natural line, with pure ingredients, and peptides, for men and women.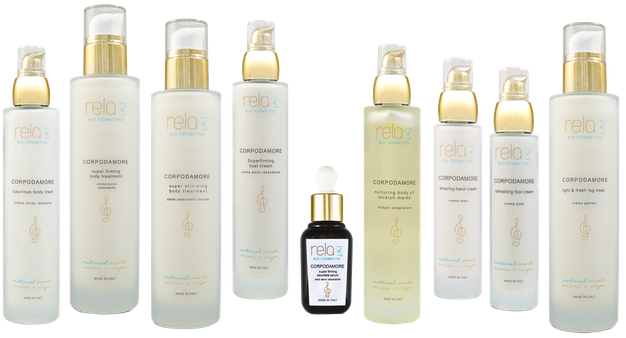 Linea corpo. D'Amore.
Body care line. Love based.

Per la cura e il benessere della pelle maschile.
For the care and well-being of male skin.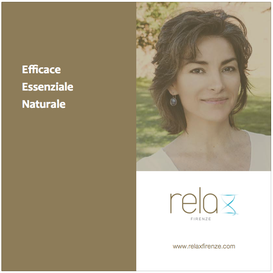 Relax Bio Cosmetics Brochure
Relax Firenze Brochure.pdf
Documento Adobe Acrobat
1.8 MB
---
I prodotti Relax Bio Cosmetics, utilizzando ingredienti naturali, possono subire lievi modificazioni che non ne pregiudicano l'efficacia,
ma indicano l'assenza di stabilizzanti e conservanti di sintesi.
 Ideali anche per le pelli sensibili. Evitare l'utilizzo in caso di allergia a uno o più componenti.